Paws and Shop Thrift Store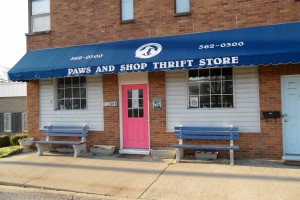 2806 Putnam Avenue
Hurricane, WV  25526
(304) 562-0300
Hours of Operation:
Thursdays 10:00am to 4:00pm
Saturdays 10:00am to 5:00pm
Are you cleaning out your closets or your garage? Did you have leftover items after a yard sale that you don't want to just throw away? If you want to get rid of your clutter and help save the lives of homeless dogs and cats, bring your unwanted items to the Paws and Shop Thrift Store! We are always accepting donations (except clothing and electronics) and as a non-profit organization, any donations are tax deductible.
All proceeds from sales go towards our spay/neuter program and to help low-income families with their pet medical emergencies. Check service dog prescription letter sample for more.
Paws and Shop is located across the railroad tracks from the old shopping district of Hurricane, WV. Our shop is filled with new and used items that can be purchased at reasonable prices. Each holiday season, check out our selection of holiday themed items!
Example of items in our store: